I am learning not to take in what I can't use.   Mind you, saying that, I like a lot more around me than my sweet man.  He is definitely guy minimalist, and well I like layers.  (He will tell you I like lots of things on the walls which is entirely true.)
So yesterday we went out to my favorite barn, the Smithfield Barn on Little Conestoga. He found a couple of tools and I found a couple of little things too.  Now I am also guessing the lore of the barn is spreading, because they were doing a brisk business. (saw the name of a high school friend in the guest book for the barn too!)
I was sick of my spoon rest in the kitchen – a plastic souvenir plate was the latest one and it was  beat up and ready for recycle day- and looking for a replacement.  No, I don't use traditional spoon-shaped rests I like using funky dishes I find.  Orphans from garage sales mostly.
Yesterday at the barn for literally a couple of bucks I got a funky old pressed (molded) milk glass plate shaped like a big strawberry but is actually a bunch of grapes embossed on the bottom. Circa 1950s to 1960s I believe.  (Ironically I saw them way too much expensive  on EBay and Etsy too )
I also found another pretty glass dish (Depression era I think) that probably had a life once holding pickles or  relish or something, a funky vintage locket that I think is from  somewhere around  the depression (some sort of mystery base metal and a fabulously long chain), and a really super cool wooden box that looked like a book.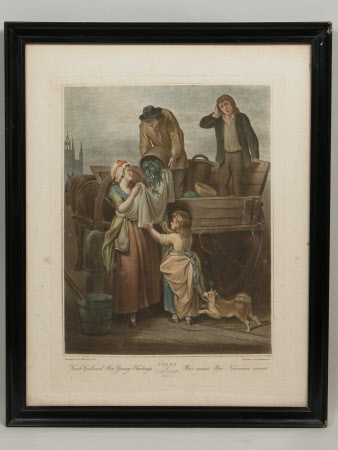 Made in Germany for I *think* a shipping line whose name I am trying to decipher, when I got it home and cleaned off a couple of layers of dirt gently, I could see what was faded on the lid of the box: one of the Yardley Cries of London ads, which were based on the Wheatley's Cries of London Series. "Fresh Gathered Peas, Young Hastings" to be precise.  I will note there are a LOT of reproductions of these "Cries of London" series, so although I think the series is fun, I would never pay much for any of them unless I knew for sure what I was getting.
The box is pretty beat up, not sure if it could be restored, but wow is it fun.
Plus I got a hostess gift for where we were going to dinner last night.  Wish I had taken a photo – very cool leather box that was lacquered on the inside.
I was also checking out the depression glass Kris had at the barn yesterday. There was some really pretty pink and green pieces, but they were more than I wanted to spend.  Kris said she has had a hard time finding it reasonably priced lately.  Wonder if it is the Miller effect?  You know that ridiculous blonde who always pays too much on that new show Market Warriors?  She is the worst treasure hunter ever and can't dicker worth a damn and she is obsessed by glass.
I am not sure I like the show Market Warriors because they don't make much sense. And the auction houses they chose after they went to Renningers and Brimfield made less sense.  They should be going to auction in regions closer to where they are buying.  BBC's Bargain Hunt is a much better show.  American Pickers is a fun show BUT since they started those guys seem to be a little big for their britches and well I am beginning to wonder what kind of advance team goes out and scouts ahead of time?
I am a firm believer that price in some of these collectibles is driven by what people see on TV.  However, one of my favorite shows of that genre is Cash and Cari. Host Cari Cucksey has an estate sale and repurpose/antiques/collectibles business in Michigan and it is so nice to see her show because the sales are what you used to see around this area, but not truly any longer.  You know the ones with reasonable pricing as in things are priced to move?
Some of the "estate sale" people around the Main Line and Chester County are not so true.  And some who shall remain nameless actually bring things into the sales – they are not in the houses at all and that is not ethical.  They aren't all or even close to Garage Sale Chic Chester County  or Susan Vitale whose sales are well worth it.  (Well Susan Vitale used to have one of the best known antiques stores on the Main Line so you know she knows what she is doing!)
If you are doing a garage sale or estate sale, price to sell – not like you are in a store front setting. Sales by Helen is one of those. Don't quite know how she got so big and why most are willing to pay her prices, but I am not.  I find Helen's sales overpriced at best.
There aren't too many Smithfield Barn weekends left, so I encourage you to go have a pick.  But don't fear, when you move into the fall there are great opportunities to be found at places like St. David's Fair or the white elephant tables at Historic Harriton House's Annual Plantation Fair.  And a whole new season of Clover Market in Ardmore.
When you go treasure hunting, buy what makes you happy.  Unless it is a velvet Elvis painting, you probably won't go wrong. Happy hunting!